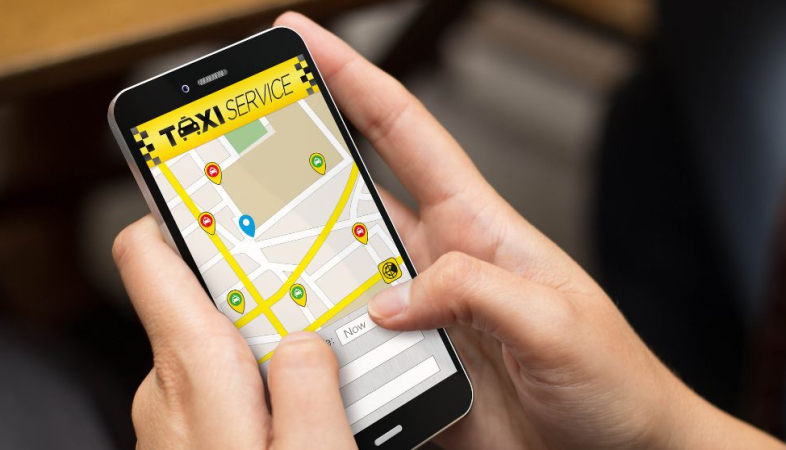 How much does an Uber-like Taxi/Cab mobile app development cost? According to a report by Statista, revenue in the ride-hailing and taxi segment is projected to reach US$314,224m in 2022. Are you looking for a taxi app development company or software? Do you know there are different types of taxi or cab booking or ride-hailing mobile apps? This blog is for all cab services owners and startups who want to know how much it costs to develop a taxi booking app.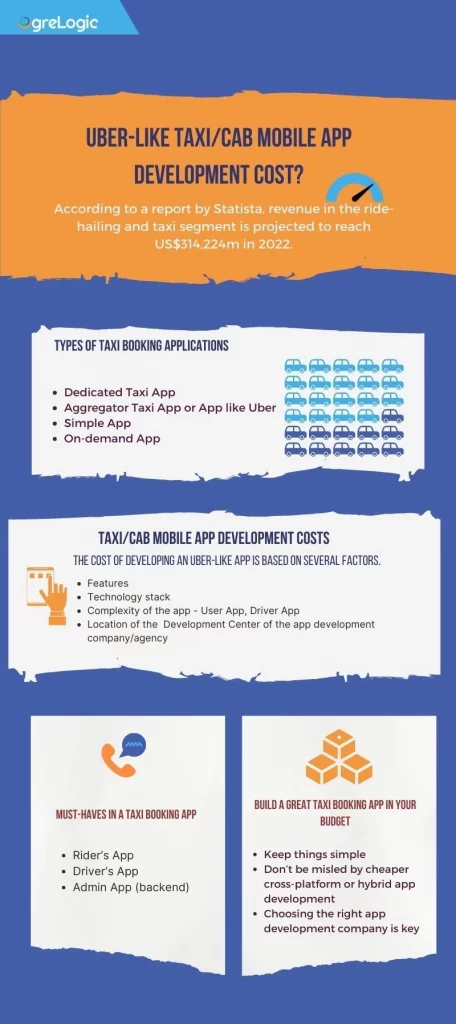 Types of taxi booking applications
Dedicated Taxi App Who is this right for? A dedicated taxi app is perfect for fleet owners who need a taxi app for their company, so that they can acquire more customers. What would be the primary source of revenue? The primary source of income would be third-party advertisements or the customers booking the services. Aggregator Taxi App or App like Uber Who is this right for? A cab booking app like Uber is perfect when a large number of cars and drivers are available or expected. The app will list drivers with their cabs so that the customers can book them directly. Aggregator taxi app can have two sub-types –
Simple App – A simple aggregator app will list the services of different cab drivers with their commercials.
On-demand App – Popular apps like Uber are good examples of on-demand taxi/cab applications. Users can book cabs in their vicinity via the application. Drivers can also pick up bookings via the app.
Taxi/Cab mobile app development costs
Many mobile app development companies may tell you that developing such app will cost between US $5000 to US $100,000. However, the pricing for mobile app development services is not fixed because the cost of developing an Uber-like app is based on a number of factors. Let's look at the different factors that determine the cost of developing a taxi booking app.
The features you want your taxi booking app to have will play a big role in determining its cost. The more advanced the features, the more functional the app and the higher the pricing. API integration to add more features will add to the costs of development.
The efficiency and budget-friendliness of the tech stack used for developing mobile apps will also contribute to the overall app development cost. The technology stack needed for developing a taxi booking application may include Google Maps; Swift (for iOS); Kotlin and Android Studio (for Android); AWS; PayPal and Stripe (for payment gateway); chat and message apps and more.
Based on the complexity of the mobile app, the app development company will allocate their resources. The cost of the resources is the biggest determiner of the overall cost.
Basic features dedicated taxi app: US $5,000 – US $15,000
Complex features dedicated or medium features aggregator app: US $15,000 – US $30,000
Advanced features aggregator app: US $30,000+
User App
User Android app design and development – 60-90 working days User iOS app design and development – 60-90 working days
Driver Android app design and development – 45-60 working days Driver iPhone app design and development – 45-60 working days
Development center of the app development company/agency
The location of the app development company's development center can reduce or increase the overall app design and development cost. This is because the resource costs in Asian countries are lower than in USA, Australia, the UK. While North America-based developers charge $150-$250/hour, India-based developers may only charge $20-$80/hour. Finding the exact pricing of your taxi or cab booking app development can be a challenge. You can schedule a no-obligation consultation with our mobile app consultants to find out how much your app will cost. To make your life easier, at Ogrelogic, we give you a modular pricing with you with must-have and good-to-have components.
Must-Haves in a Taxi Booking app
Rider's App

User Registration & Login
User profile with edit option
Cab Booking
Different payment gateway options
Push notifications
Option to track the vehicle's location in real-time
Fare calculation
Feedback
Driver's App

User Sign-up & Login
User profile with edit option
Booking Confirmation
Option to accept/reject bookings
Trip details
Real-time location tracking
Booking History Tracker
Earnings Tracker
Admin App (backend)

Admins should have the option to access exhaustive information about active, completed, and booked rides.
Report Tracking
Revenue Management
Driver Management
Passenger Management
Customer care Management
Tips to make sure you can build a great taxi booking app in your budget
Keep things simple. Begin with the must-haves. Ask the app development company to give you the pricing for adding good-to-have features later.
Don't be misled by cheaper cross-platform or hybrid app development. Cross platform apps have lower speeds, poorer UI/UX design, and limited customization options and tools within the framework, compared to native apps. You don't want to build an app and then turn users away because of poor performance, do you?
Choosing the right app development company is key. Some entrepreneurs and business choose to hire freelancers and get their apps built in a piecemeal approach. That is most likely to end up poorly. Freelancers do not have the capacity to provide you full design, development, quality testing, project management and troubleshooting and maintenance capabilities. Such projects are often left midway and you end up losing a lot of money. It is best to hire a full-service native mobile app design and development company who can offer you a full, 360-degree service under one roof. These companies have robust in-house teams who make sure your project is designed and developed as assured and they can also overcome any roadblocks along the way.
Ogrelogic is a trusted cab booking and other app development solution provider. Our team of mobile app developers has introduced some of the most unique and efficient apps to the world in a variety of domains. Get in touch with our experts and we will be happy to guide you through the app design and development process and help you to launch your dream app in 2022. Call us at +1 (512) 861-84711 or write to [email protected]. 4 REAL ESTATE APP TRENDS THAT CAN MAKE YOUR APP SUCCEED IMPROVE THE VISIBILITY OF YOUR APPS WITH ASO FACTORS THAT MAKE YOUR MOBILE APP SUCCESSFUL! FACTORS TO KEEP IN MIND BEFORE DEVELOPING AN IPHONE APP